We're Getting Mutants in the MCU - The Loop
Play Sound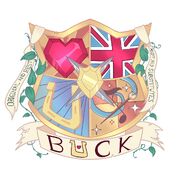 BUCK (originally named the Brony UK Convention) was an annual convention for fans of My Little Pony Friendship is Magic held in Manchester, United Kingdom, that ran four times between 2012 and 2016. The convention was founded by Saturn, who also acted as chairperson for the first two events. BUCK was a member of the European Pony Conventions Union.[1]
BUCK generally emphasized community and musical guests over show staff, due to the cost and difficulty of transporting show staff from across the Atlantic Ocean. The latter three conventions included The Summer Sun Celebration, a music festival that operated as an independent event on the same weekend as the convention.
Mascot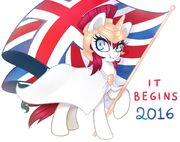 BUCK's mascot was Britannia, Britty for short, a white unicorn with a red mane and a cutie mark resembling a globus cruciger, with a heart in place of a cross. She was often depicted wearing a white cape and a galea helmet, and accompanied by her pet manticore Roary.
Two fursuits of Britannia were created, though neither were commissioned by the convention.
Events
| | |
| --- | --- |
| | This article about a fandom phenomenon can be improved by someone with expert knowledge or personal experience. |
BUCK 2012 (August 18–19, 2012)
A small concert, named the Pinkie Pie Party, featuring live performances by RainbowCrash88 (with a full backing band) and WoodenToaster.
BUCK 2012 was livestreamed on Everfree Radio. Part of the documentary Bronies: The Extremely Unexpected Adult Fans of My Little Pony was filmed at the convention.
BUCK 2013 (August 24–25, 2013)
Location: Bridgewater Hall, Manchester, United Kingdom
Guests of honor:

Community guests: The Living Tombstone, Acoustic Brony, WoodenToaster, General Mumble,

Speedcore Dave!

, Blaze,

Lavender Harmony

,

Addictia

,

Icky

,

ClutterviX

,

Tei the Pony

[2]
BUCK 2013 replaced the previous year's Pinkie Pie Party with an expanded event—the Summer Sun Celebration—which operated as a standalone festival the day before the convention. It featured musical performances by The Living Tombstone, Acoustic Brony, WoodenToaster, General Mumble, Speedcore Dave!, Blaze, Lavender Harmony, Addictia, Icky, ClutterviX and Tei the Pony, with light shows performed by LaserPon3 and the Glow Performers.
BUCK 2014 (August 23–24, 2014)
Location: Manchester Central Convention Complex, Manchester, United Kingdom
Guests of honor:

Show guests: Dave Polsky[3]
Literary guests: Heather Breckel, G.M. Berrow[3]
Community guests: Acoustic Brony, Addictia,

Age of Harmony

team,

Animeleague

,

Arcanium

,

Big Harry

, Blueshift,

CAVI

,

CaptainHoers

,

Clockwork Stallions

,

Davhors!

,

Dominic Smith

,

Emma Fern

,

Esdevium

, Everypony.com,

FrozenPyro

, General Mumble,

Greatodyer

,

HACKD

,

HMage

,

Hazel Hooves

, Icky,

JackTHerbert

,

James Corck

,

Knighty

(founder of FIMFiction),

Lady_Nanaki

, Lavender Harmony, Legends of Equestria team,

Louise Weird

,

Macarou

, MasakoX (cosplay competition judge),

Mecha

,

Metaphor

,

Mic the Microphone

(performer and charity auctioneer),

Mush

,

My Little Karaoke

team,

One Wing Pegasus

, Pipsqueak,

Prince Whateverer

, RainbowCrash88,

Scribbler

, Shwabadi,

Sketchy Sounds

, Tei the Pony, The Living Tombstone,

Twigileia

,

UrbanMeadows

,

Vocal Score

, WoodenToaster,

xthedarkone

,

Yami Björk

(cosplay competition host),

Zatslol

[3]
BUCK 2014 was themed as being a rebellion against an oppressive police state, with the convention conbook and promotional film reflecting this theme. This was the first BUCK event with Mavromichali as convention chair.
The convention expanded on the previous year's musical offerings by hosting four concerts across three stages:
The Summer Sun Celebration that took place the night before the convention's opening ceremony. It featured performances by Acoustic Brony, Addictia, General Mumble, HMage, Icky, Lavender Harmony, Mic the Microphone, Prince Whateverer, and The Living Tombstone.
The Lunar Eclipse ran on the Saturday night of the convention and featured performances by CAVI, Davhors!, RainbowCrash88 ft. Emma Fern, JackTHerbert, and Tei the Pony.
The Cadence Stage ran during the daytime on Saturday and Sunday with an emphasis on less established musicians within the fandom. Saturday's show featured Mush, HACKD, Shwabadi, and Zatslol. Sunday's show featured Macarou, One Wing Pegasus, and Vocal Score.
It was announced after the convention that BUCK wouldn't be held in 2015, with the next convention taking place earlier in 2016 instead.
BUCK LDN (November 28, 2015)
Location: The Red Herring, Gresham Street, London, United Kingdom
A brony meet was held in London celebrating the end of My Little Pony Friendship is Magic's fifth season, featuring a live viewing of the episodes.
BUCK 2016 (April 9–10, 2016)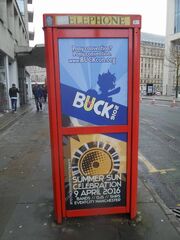 The convention chair once again changed hands, with Nethesem assuming the role.
Daniel Ingram was originally announced to be attending as a guest of honor[4], however he later had to withdraw due to work commitments.[5]
2016's Summer Sun Celebration took place on the Saturday of the convention, featuring performances by Shawn Wasabi, Silva Hound, Prince Whateverer, Omnipony, and Usagi Drop.[7]
The convention was promoted with an animated music video for the song "When Can I See You Again?" It was announced on social media two months prior to the convention that BUCK 2016 would be the last event.[8]
References
External links